TWITTER COMMENTS- WHY SHOULD I BUY TWITTER COMMENTS?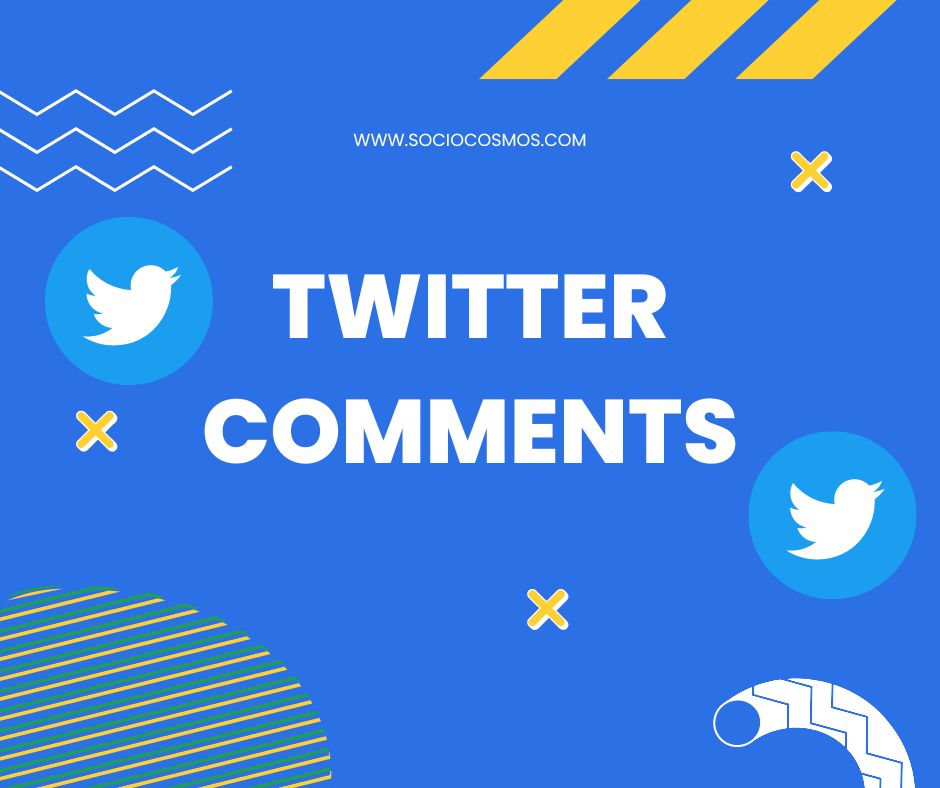 Twitter comments are essential to increase the performance of your Twitter account. Twitter is a competitive platform. In fact, it is a platform that is crucial for many people who want to be in front of everyone, such as artists, sportspeople, and politicians. If you want your Twitter account to have more visibility, it is important to have engagement on your profile. Engagement comes in different ways. Yet, there is one type of engagement that can result in boosting your profile quickly; by getting the comments for your tweet. When people click on your post or the comment on your profile, it affects the algorithm in a positive way.
Buying comments is useful to make your tweet look popular. People tend to take a closer look at the posts full of comments compared to tweets with no comments. So when you have comments under your tweets, you will attract many people. Some of them will keep the attraction going by liking or making comments, and perhaps some of them will follow you just because you give the impression that you are already popular. So, by buying only one product from us, chances are high to receive organic likes, comments, and followers. As a result, your twitter account will be more active than ever before.
BUY CUSTOM TWITTER COMMENTS- DIFFERENCE BETWEEN REAL AND REGULAR WAY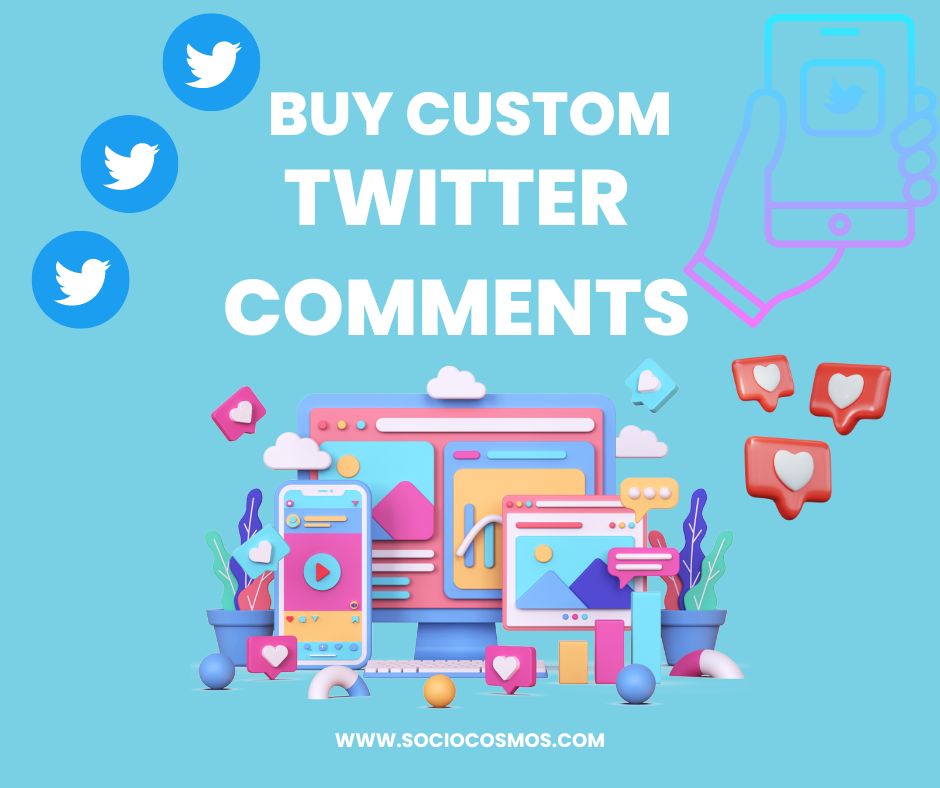 Buy custom twitter comments real in a regular way. As SOCIO COSMOS, we offer our clients two different options: real and regular. Real comments are coming from real Twitter users, and we create regular comments via our dedicated software. Bot comments are always more affordable than the real ones. Our realistic-looking, excellent-quality bot comments will appear instantly under your tweets. Also, the delivery of regular products (bots) is faster.
There are a few factors that influence a tweet's ranking on the Twitter feed, and the number of comments it receives is one of them. Having a high amount of followers is not enough on social media. To increase your visibility, engagement rate, and interaction rate, you need Twitter comments. With comments, your account will look more professional, engaging, and realistic.
With our excellent products, you can either buy comments for one tweet or buy twitter custom comments for your future tweets. Both of them are excellent services to bring organic engagement.
The buying process is easier than you think. You only need to give us your post's URL link, and we will handle the rest with care. We are sending the best, reliable, and realistic comments. We guarantee that our comments never decrease, and if your bought comments and they somehow disappeared, we will send you the new ones. If you purchase bot comments, we keep them short of making them look real. But if you buy real comments, the comment can be longer, and also, real users can like your posts and follow you if they enjoy your content.
REAL TWITTER COMMENTS- HOW TO BUY TWITTER CUSTOM COMMENTS?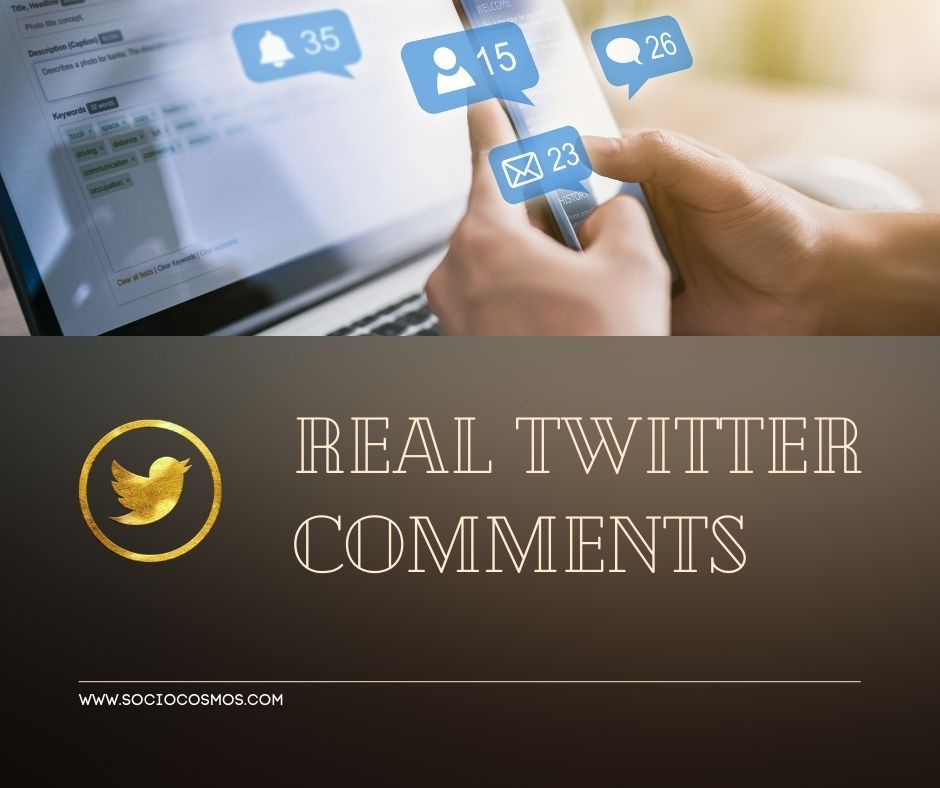 Real Twitter comments with the real users can follow and put the comments real. There are millions of small or big businesses creating corporate Twitter accounts to promote their brand and connect with their customers. If you are managing the marketing department for one of these businesses, you probably know how hard it is to attract new customers and make them like or comment on your tweets. Since now you know what our service is providing, if your ultimate decision is to buy Twitter comments, please follow the steps below:
If you want to buy Twitter comments from real users, choose the "Real" tab at the top of this page. If you wish to purchase real-looking comments (custom comments), select the "Regular" tab.
Paste your post's link into the given area.
Enter the total number of comments that you wish to buy into the next area and paste the custom comments in the given box .
Click on the "Add to Cart" button and go to the "CHECKOUT" screen.
After finished the billing details and then click the payment process and finish.
The comments you bought will be visible on your page as fast as possible. We hope you like our service. For any questions or problems, please do not hesitate to let us know via our chat or mail service. It is 24/7 online, and our staff is ready to assist you if you want to buy Twitter likes cheap. Thank you so much for reading.